What is Symbee Connect?
Symbee Connect enhances Amazon Connect and brings together the other building-block Customer Engagement related AWS Services to provide a complete set of Omnichannel Enterprise Contact Center (CCaaS) and Unified Communications (UCaaS) functionality, without the need to build - the "no code" option.
While Symbee Connect provides you with a complete set of core out-the-box features over Amazon Connect and AWS, the intent is not to restrict you if you still have the need to customize and enhance your Amazon Connect and AWS environment through the use of available AWS services and API's as needed.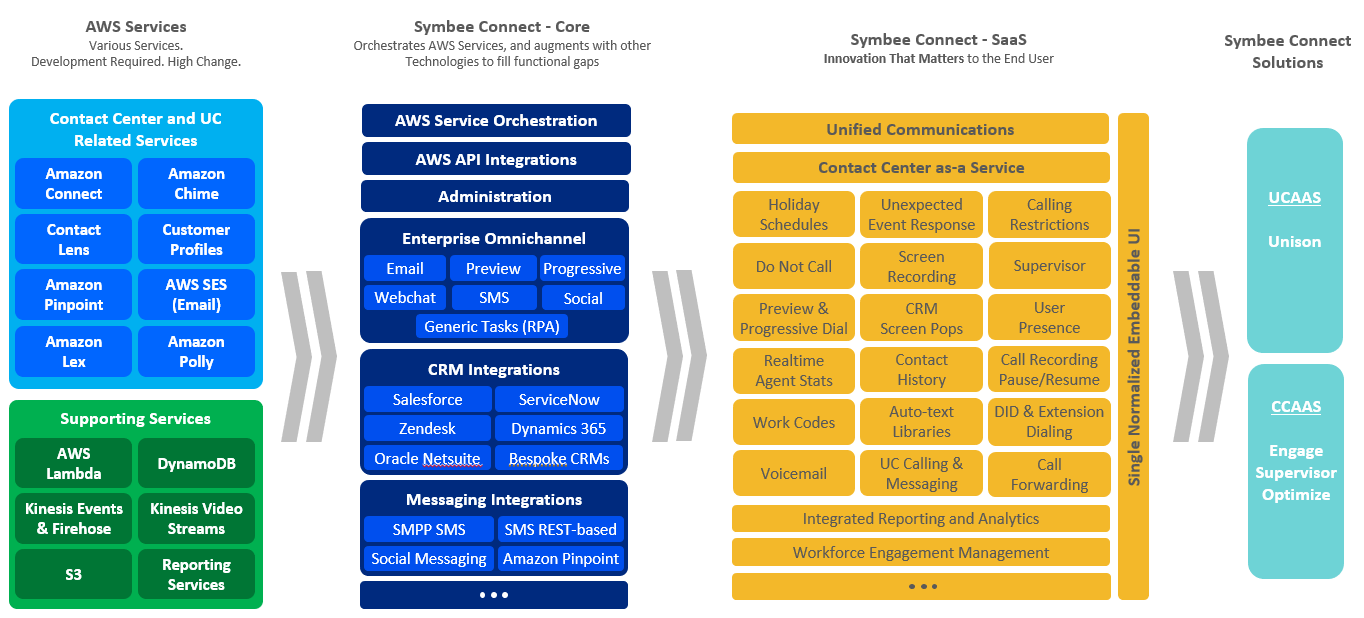 Overview
The functionality provided by Symbee Connect is brought together and delivered through the following main products:
Symbee Connect Unison - a Unified Communication Client that supports back office teams.
Symbee Connect Engagement - a complete Enterprise Contact Center Agent client supporting both Voice (Inbound, Outbound, Callback, Preview Dial) and digital channels (Email, Webchat, SMS, and Social) with a consistent and intuitive agent user interface.
Symbee Connect Supervisor - all the features of the Engagement client, plus a complete set of Contact Center Supervisor features.
Symbee Connect Analytics - comprehensive Contact Center Reporting and Analytics across all channels.
Symbee Connect enables Amazon Connect customers to immediately have a complete set of digital channel options available to be configured, including:
Voice (Inbound and Outbound)
Preview, Progressive, and Predictive Outbound Dialing
Email
Webchat
SMS
Social
Task Routing
Symbee Connect also provides immediate integration options to major CRM platforms as well as in-house and 3rd-party applications through configuration, without development being required.
Further Symbee Connect provides an end user solution for your back-office non Contact-Center users through the Unified Communications Unison option.